With Halloween approaching, it's time to get creative and start sprucing up your home in anticipation of the upcoming holiday. But before you start decorating, consider these creative, spooky, and budget-friendly Halloween party ideas.
Halloween is a time for memories and fun. But with so many ideas around it can be easy to get overwhelmed and end up not starting at all. To make your Halloween party a success this year, we're bringing you some creative and easy-to-achieve decor ideas that will transform your living room into a charming and delightfully spooky destination.
From highlighting windows and walls with eerie decor to creating a haunted entrance – we've got you covered with the best Halloween party decorations that will help you take your celebrations to a whole new level. So, if you're looking for the perfect way to celebrate Halloween and impress your guests, read on for our exciting range of Halloween party decorations!
For additional information on any of the Halloween party ideas, simply click on the provided link and you'll be directed to one of our favorite partners.
---
Greet your guests warmly by decorating your front door with this colorful Halloween balloon garland kit. The package includes all you need to jazz up your venue and best of all … no experience is required to set up this garland.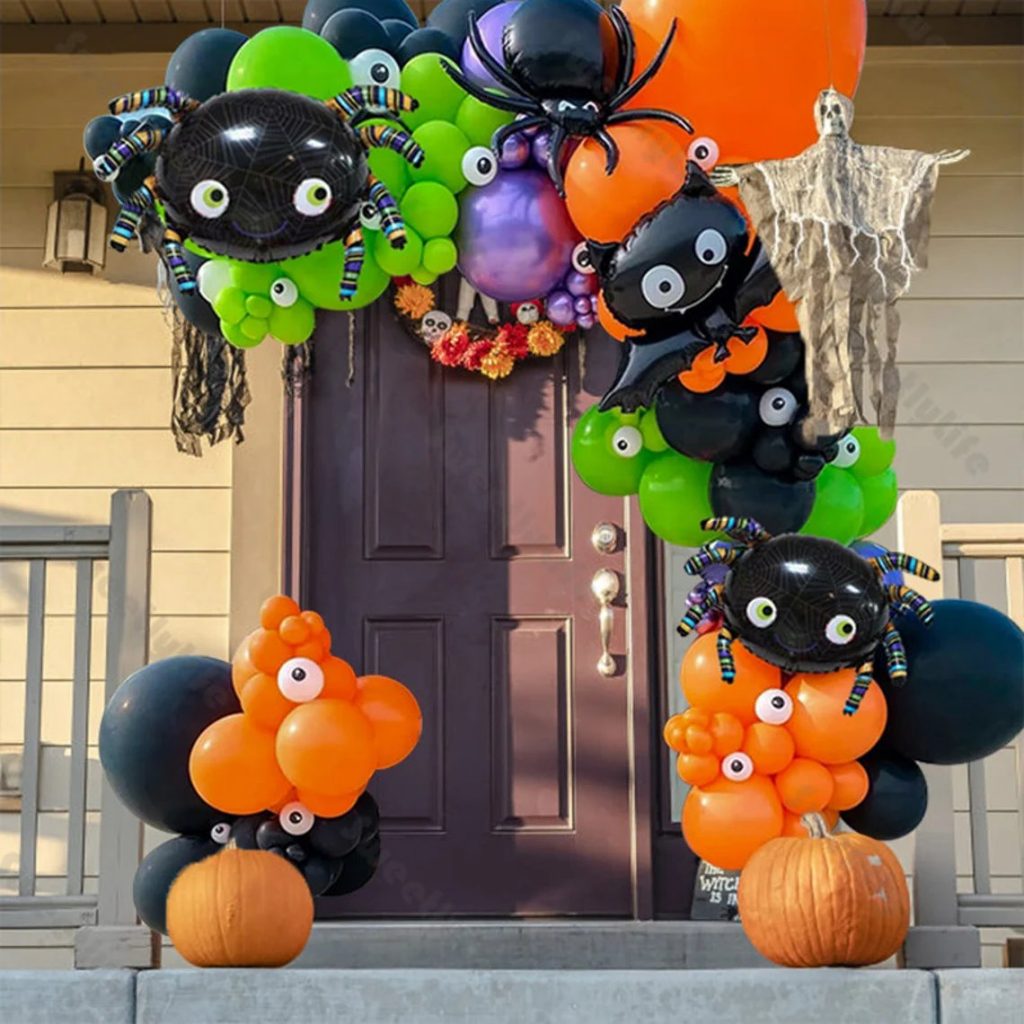 This alluring Halloween wooden witch stands 50″ tall, and includes all the accessories you see on her; tall black witch hat with burlap bow, hat brim crow bird, green glitter nose wart, pointy boots, wired curled hair, and her spooky flying broom! A matching cat statue on a stand is also available and includes wired curled whiskers, tail crow bird, and burlap bow. Both pieces are sanded and antiqued for a rustic spooky look.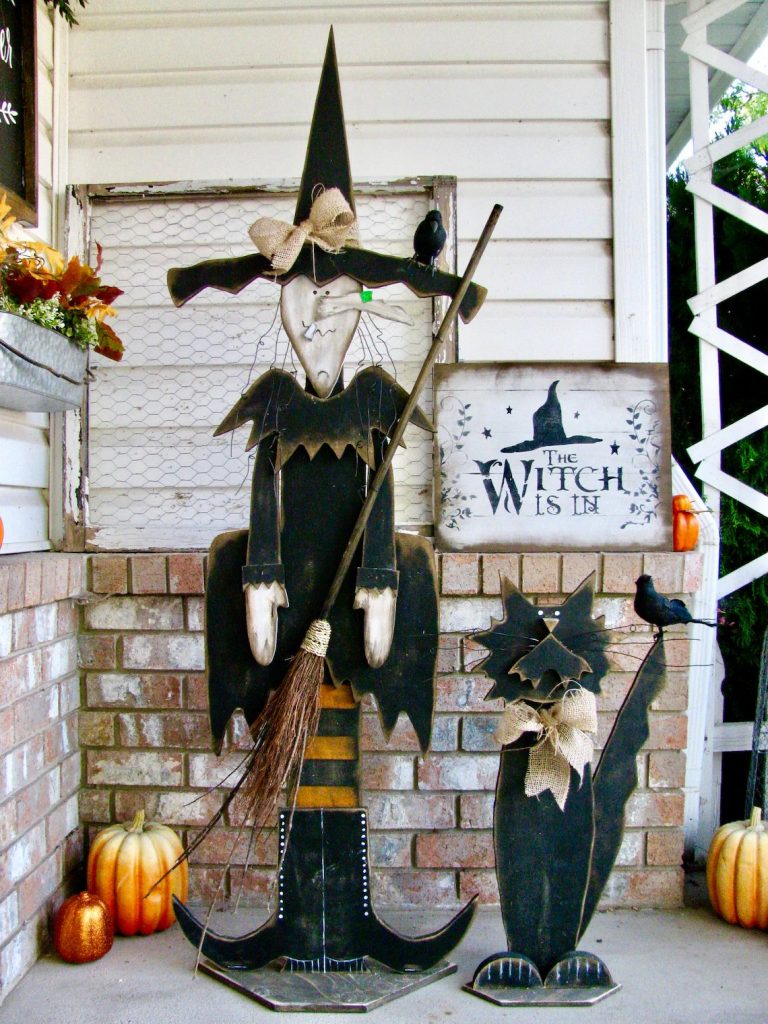 These Halloween party best costume trophies make for a great way to prompt your guests to dress for the occasion! Select your favorite trophy from the four models available: pumpkin, witch, scarecrow, or zombie. For additional fun, get more than one and declare a winner for each of these categories: best costume, cutest costume, funniest costume, scariest costume, sexiest costume, and most creative costume.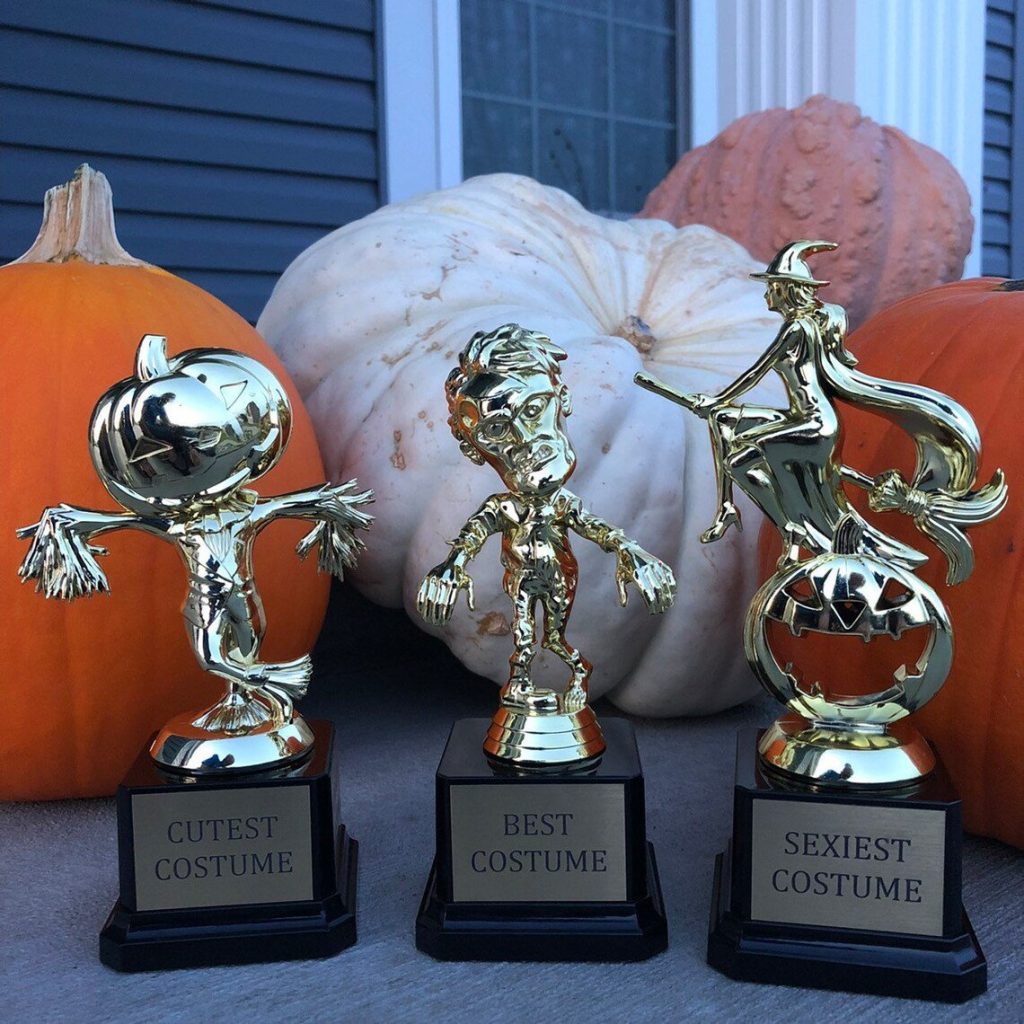 Serve food easily and mess free with these cutlery bags! Each set includes a plastic knife, spoon and fork, a paper napkin that you slide into a white paper bag that is affixed with a Halloween vinyl decal. These cutlery bags come in an colorful assortment of lime, black, purple and orange.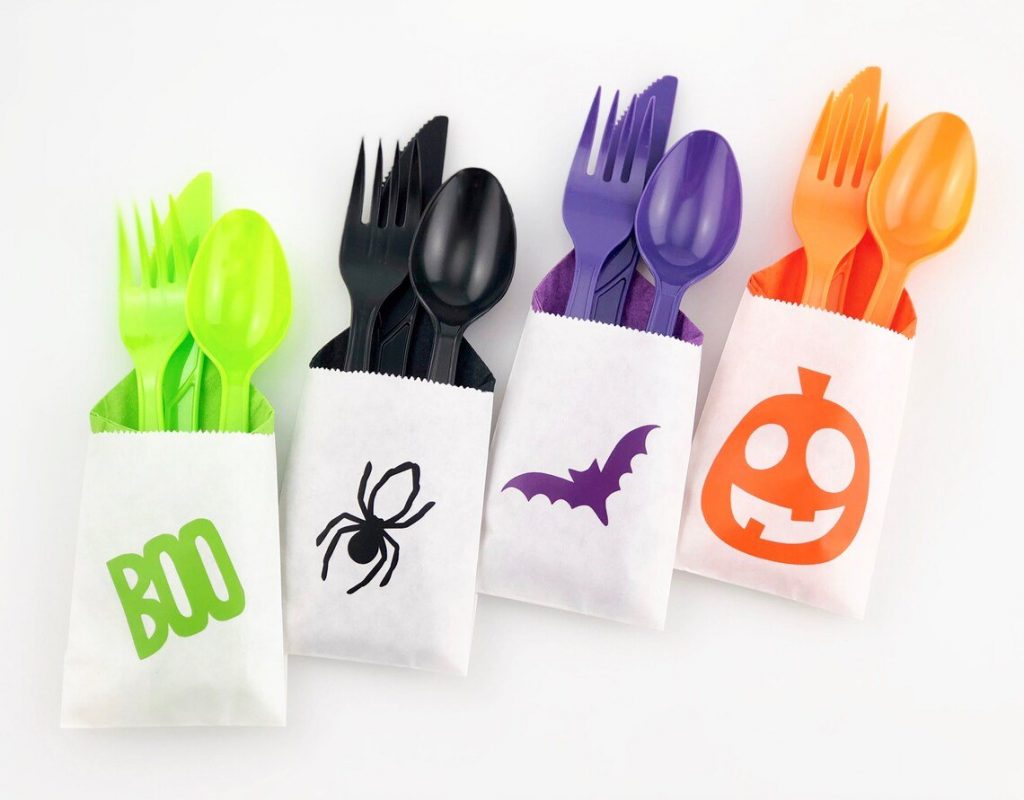 Enhance your cake with these Halloween faux lollipop stem cake toppers. Each faux Jack-o-lantern lollipops has been cut from acrylic and measures approximately 6" inches tall and 2" inches wide. They also look great when added to a floral arrangement to create a spooky centerpiece!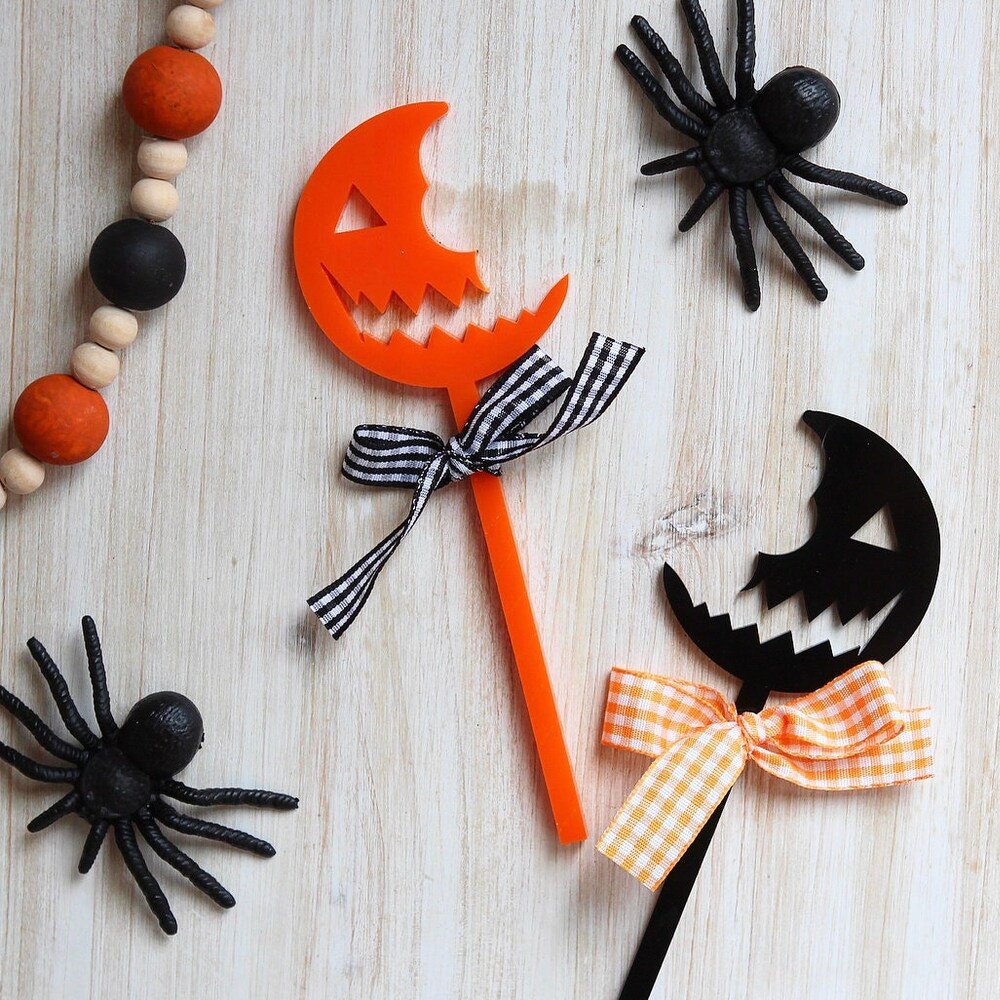 For an awesome way to elevate your table decor, this snack bowl hand stand is sure to impress your guests! Made of resin, the finger nails of the snack bowl comes in your choice of black, purple or lime green. Get this snack bowl hand stand quickly because only a few were still available!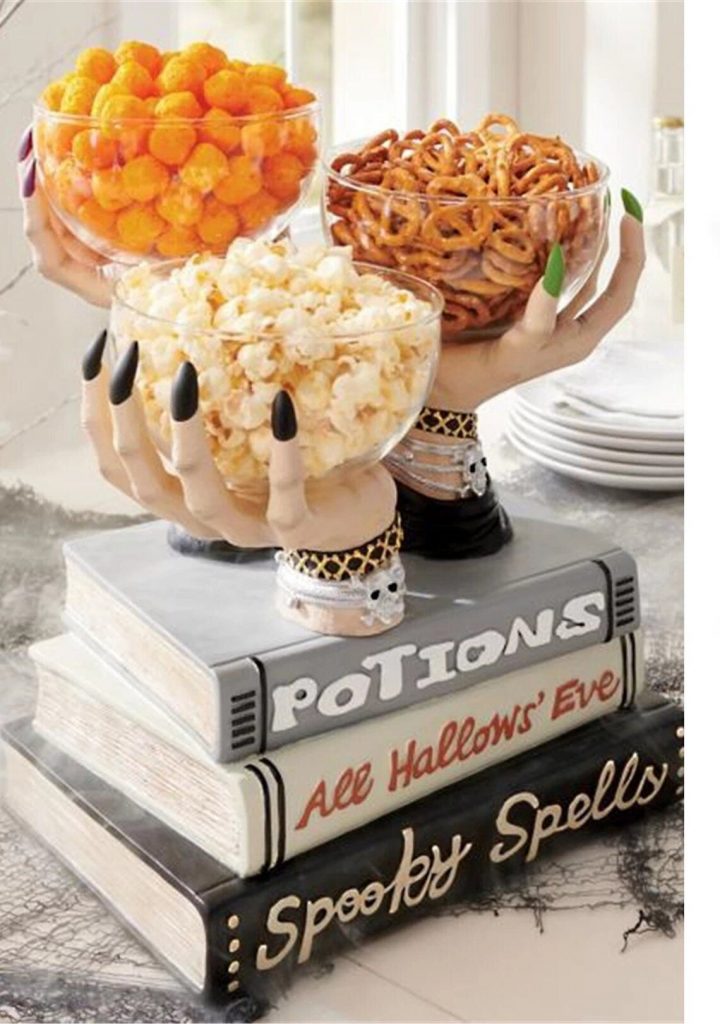 These Halloween hangover bags make for perfect favors to a grown-up party! The organza bag comes in several colors and includes two Halloween designs in your choice of a title label. Each bag is fully assembled and includes life necessities after partying ….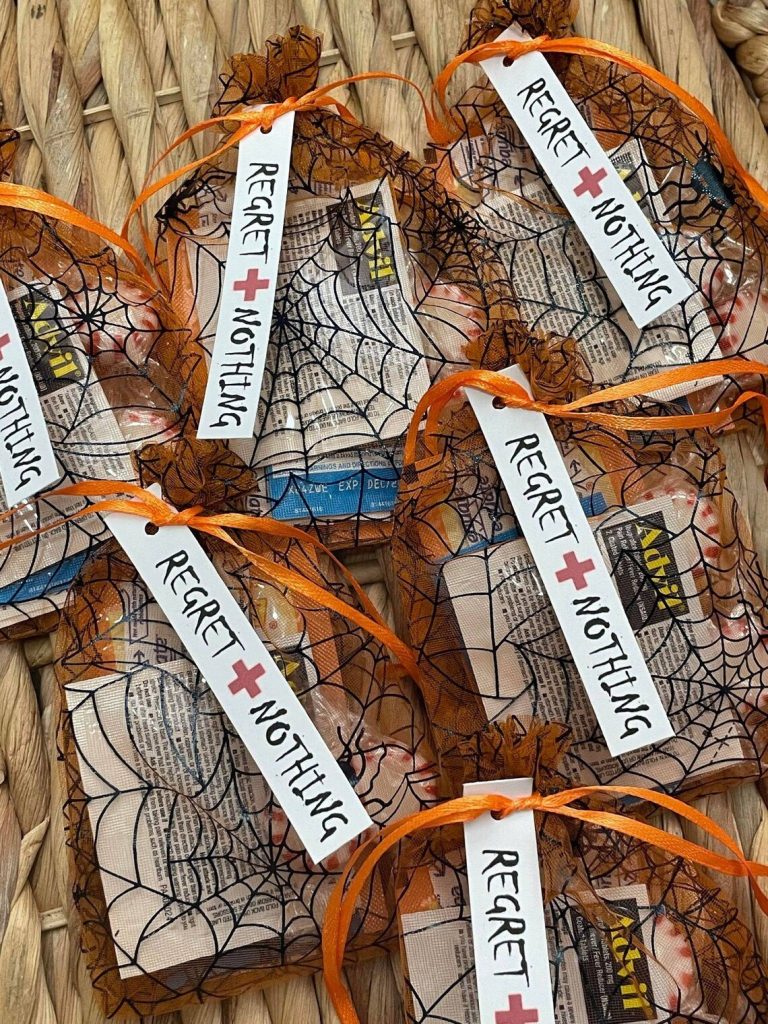 Add a spooky glow to your tables with these Halloween wine bottle light centerpieces. These bottles are hand-painted and available as a set or individual design. Each bottle includes lights that last for about 48 hours of constant use before needing the batteries replaced.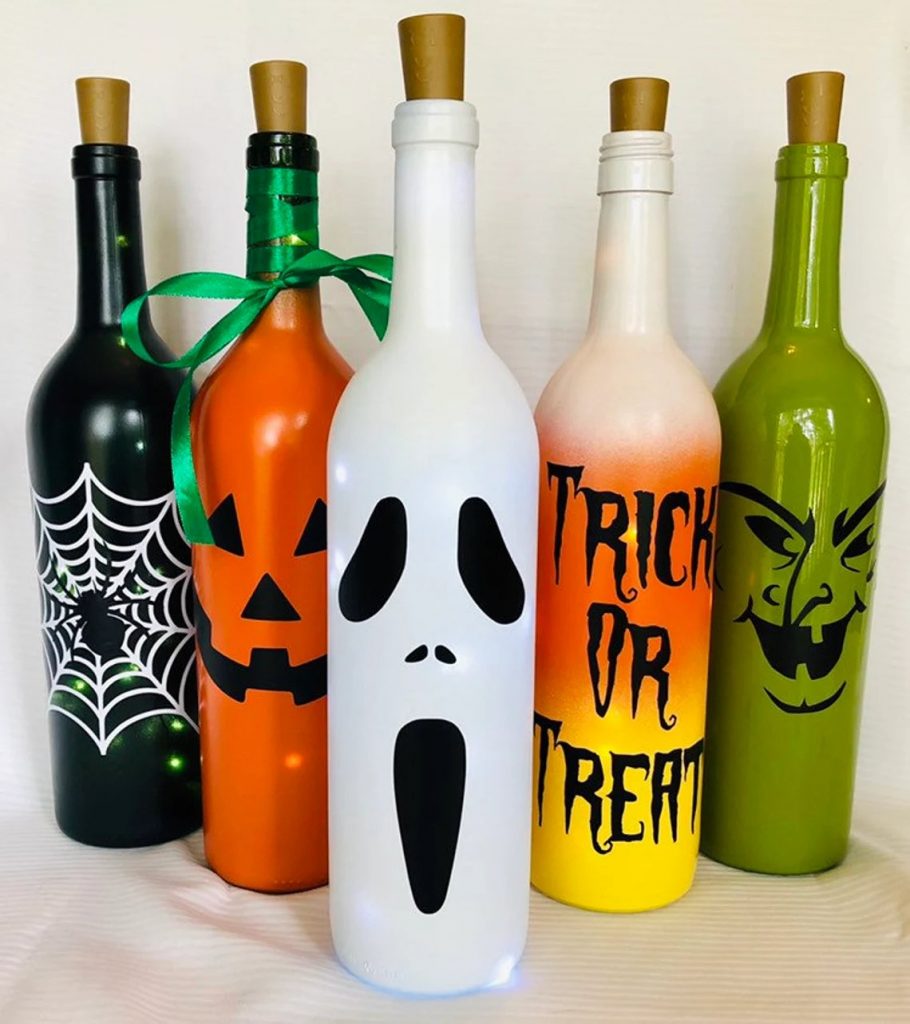 A great Halloween party requires a large spider hanging from the ceiling! You need only centered the huge honeycomb body and spread the height leg attachment on both side. The spider makes for a great focal point to enhance your venue.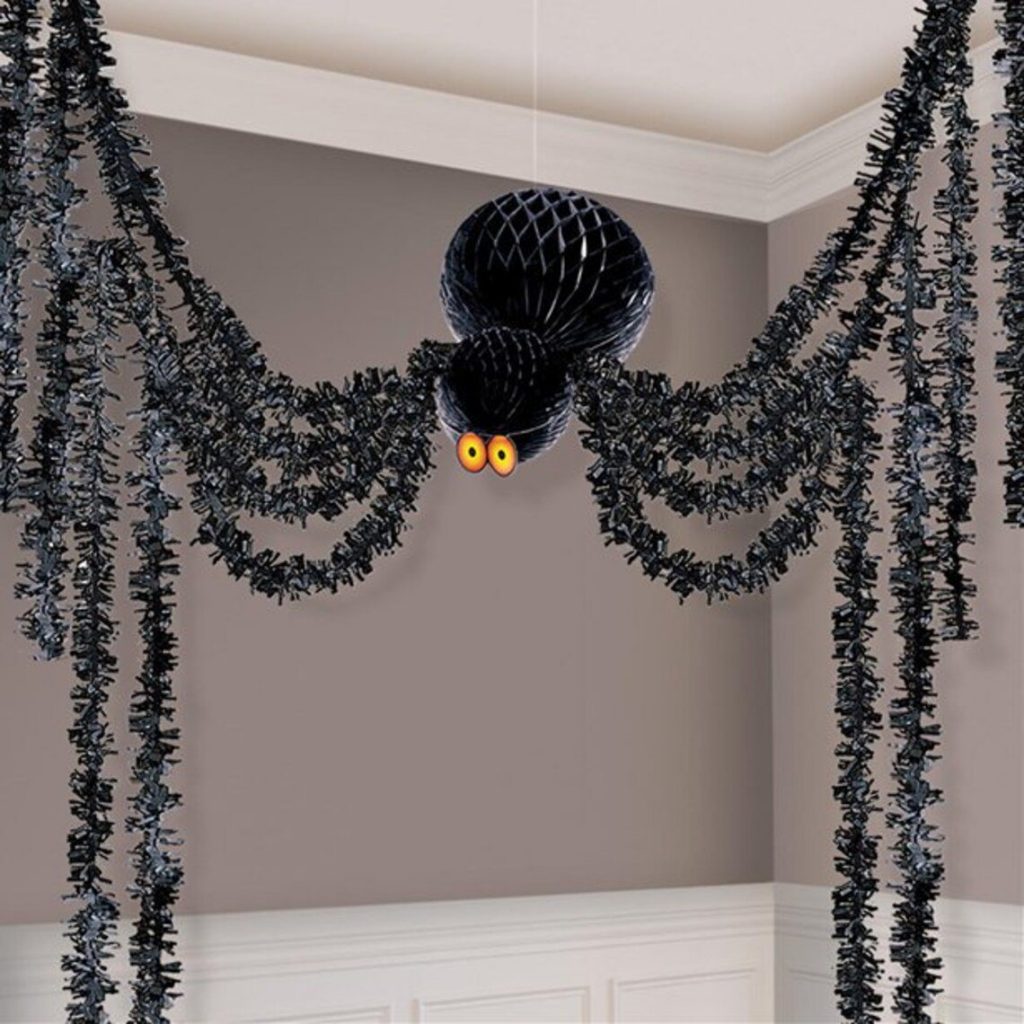 A must for any Halloween party is to treat your guests to a spooktacular candy bar! Set it up effortlessly with this bundle that includes a "Sweet Treats" banner and a set of 11 whimsical candy table signs. These sturdy card stock signs come in a color scheme of purple, green, orange, and black to easily coordinate with your other spooky decorations.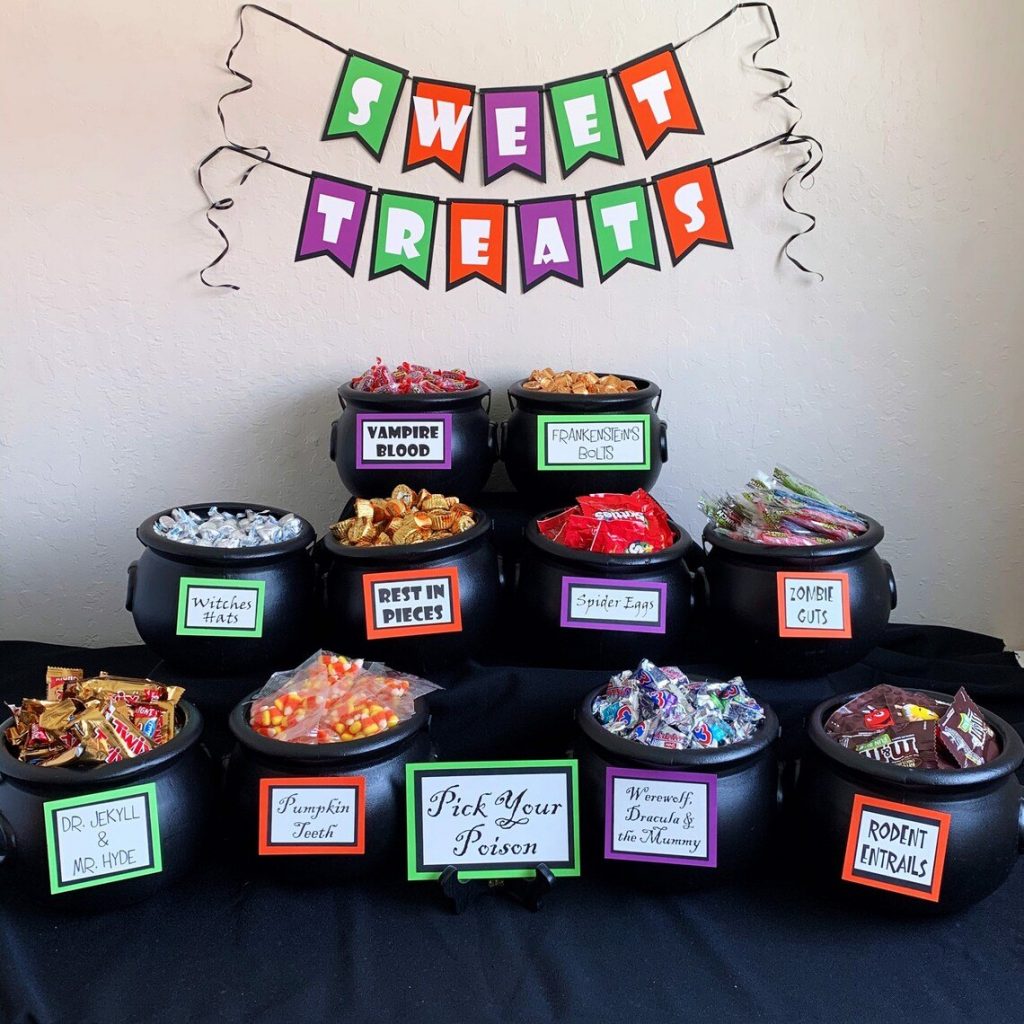 Awake the senses of your guests with a delectable Halloween candy bar kit. A treat for the eyes and the taste buds, this kit includes a selection of scrumptious candy varying in taste and texture that is specially priced for party of 25, 50, and 100 guests or more.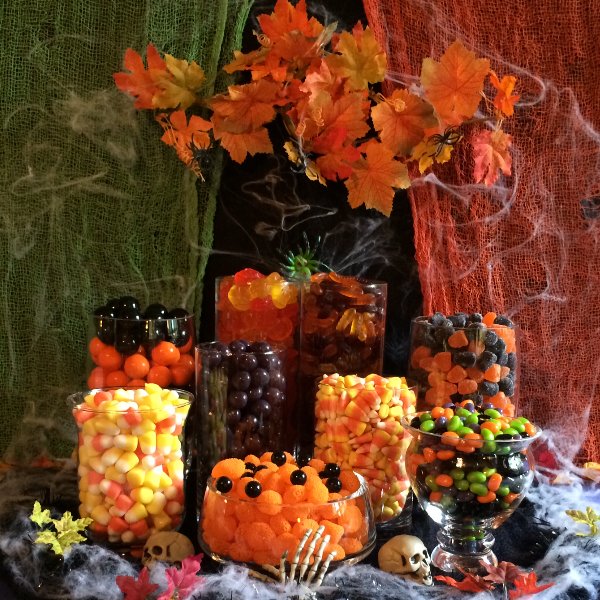 Are you throwing a party for Halloween that all will remember long after? If so, get this lovely pumpkin guest book to capture your guests' best wishes. After the event, the frame will make for a precious memento of your special party!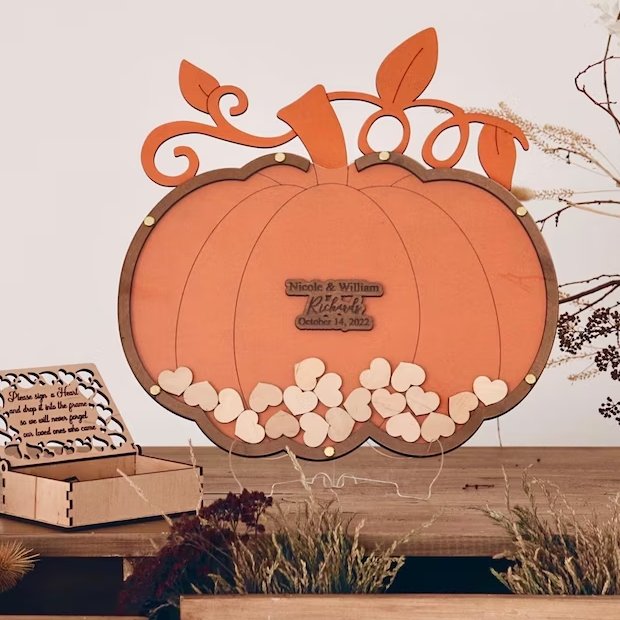 Dress up ordinary wine bottles with these Halloween themed bottle labels. This set comes in an assortment of four Halloween designs. The label is printed on high quality glossy self adhesive stock.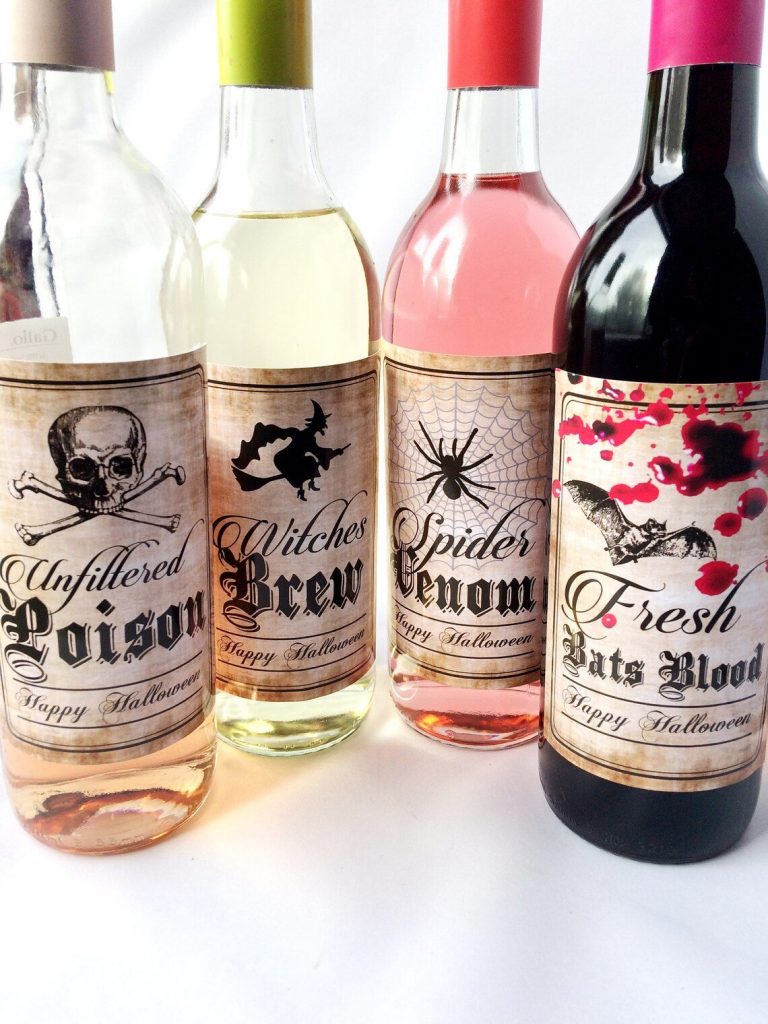 Enhance your Halloween decor and add an extra party vibe with this friendly ghost pinata. Holding a "trick or treat" sign and wearing sunglasses, this handcrafted pinata is carefully made with special attention to details. Sturdy enough to take many hits, it has a durable string for hanging and a trap door where you can fill with treats, party favors and confetti for at least 30 children! A must for any Halloween party!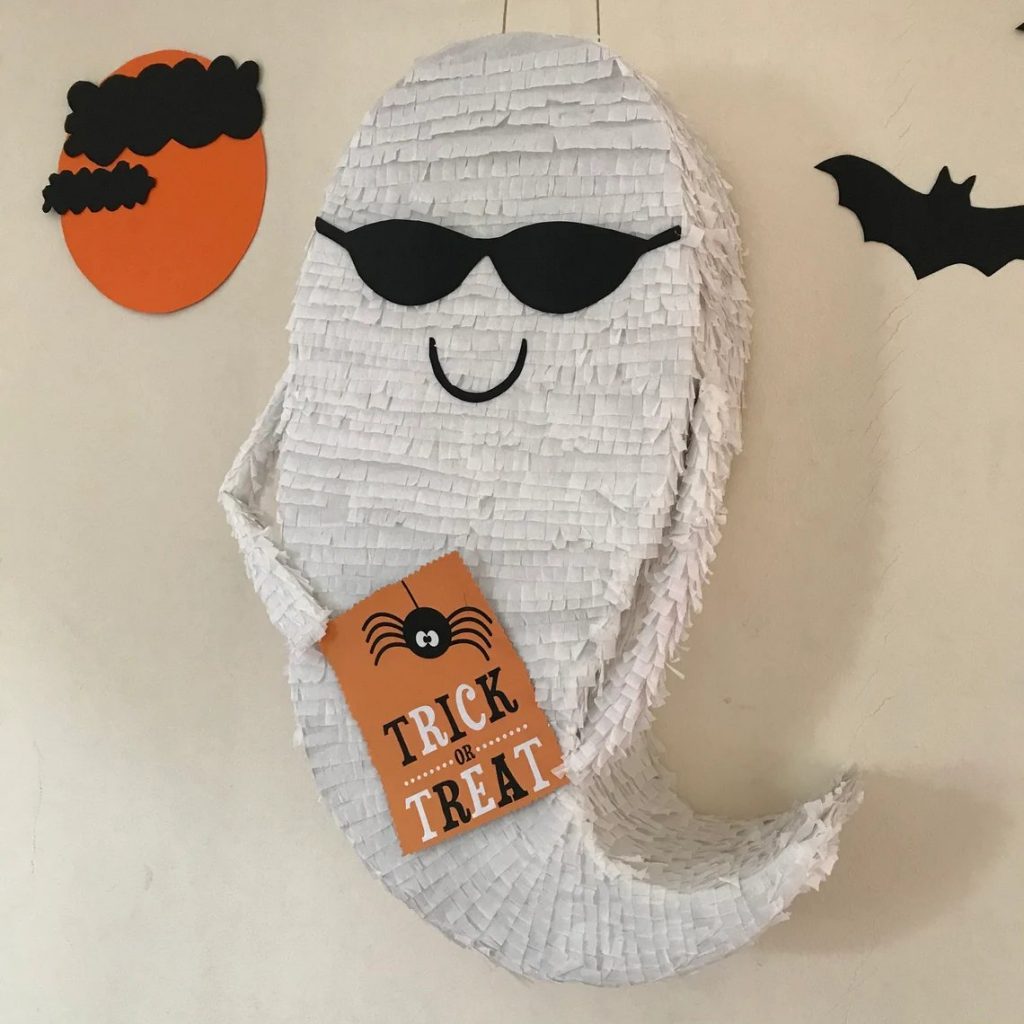 You may also like: