Cast a charming spell on your guests with a pink Halloween decor! For the last couple of years, pink decorations have gained in popularity and as become a trendy theme for baby showers and kids' first or second birthday party. In this article we specially hand-picked decoration keeping in the tones of pink and black. We could have added some orange to it as well and create a just as appealing pastel color theme.
This year prediction for Halloween is for people to decorate their home according to their personal color preferences. Could it be that the traditional orange and black colors are being phased out? There's no doubt pink Halloween decor is a growing trend, and it's easy to see why: Not only is it eye-catching and festive, but it's also surprisingly chic and sophisticated.
If you're looking to add a touch of haunting to your Halloween celebration, this article will show you how to get the perfect pink Halloween look. From stunning table settings to spooky decorations, you'll find everything you need to make your party a unique (and pink) success. So come along and discover how to create a perfectly pink Halloween party that will make all your guests say, "Boo!"
For additional information on any of the decorations, simply click on the provided link and you'll be directed to one of our preferred merchants.
---
Create a stunning balloon arrangement this Halloween with this 176 pieces pink garland kit. Easy to assemble, this kit includes various latex balloons, Mylar foil ghost balloon, bat stickers, and all the tools needed to make an amazing backdrop for your upcoming party.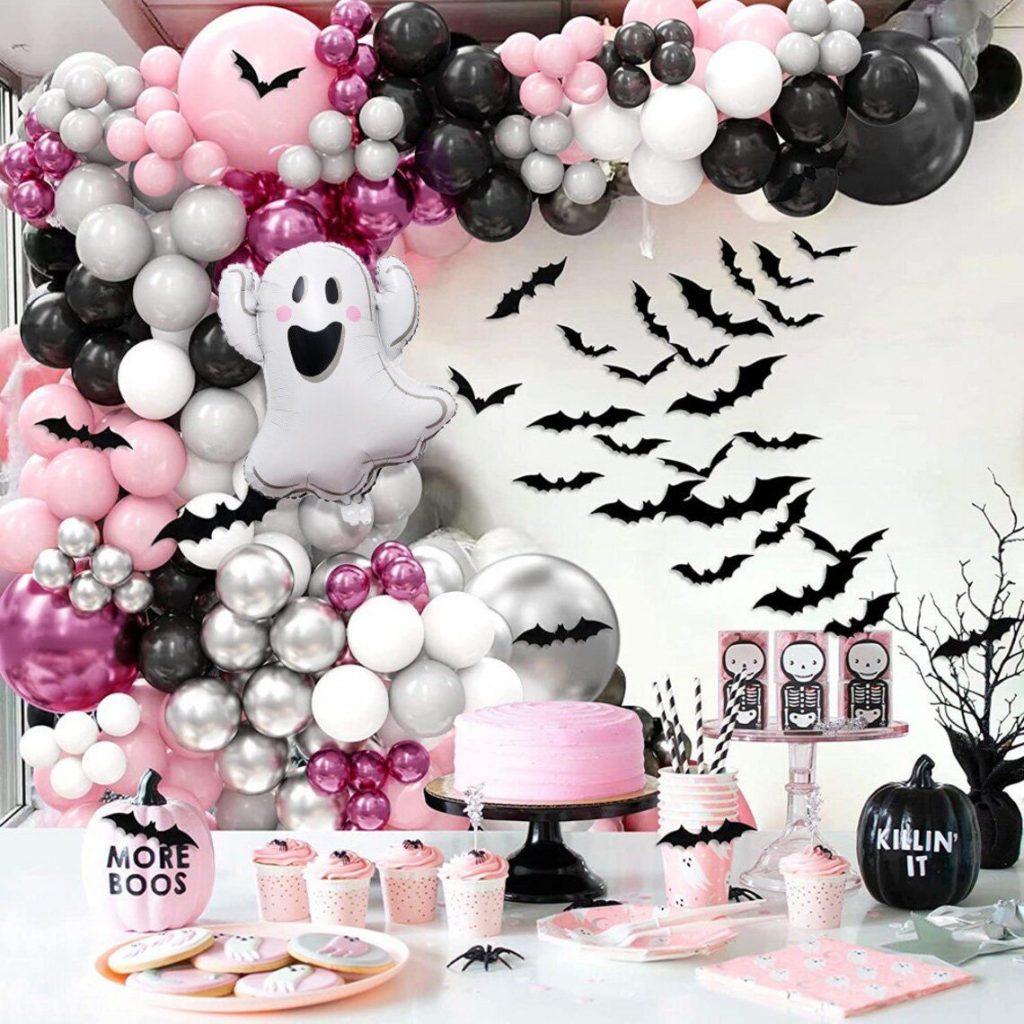 Add a stylish flair to your front porch with this alluring Hocus Pocus Halloween swag. Hand-made with luxurious floral blooms, decorations and quality ribbon; you'll be hanging this stunning pink and black wreath on your door for many years to come!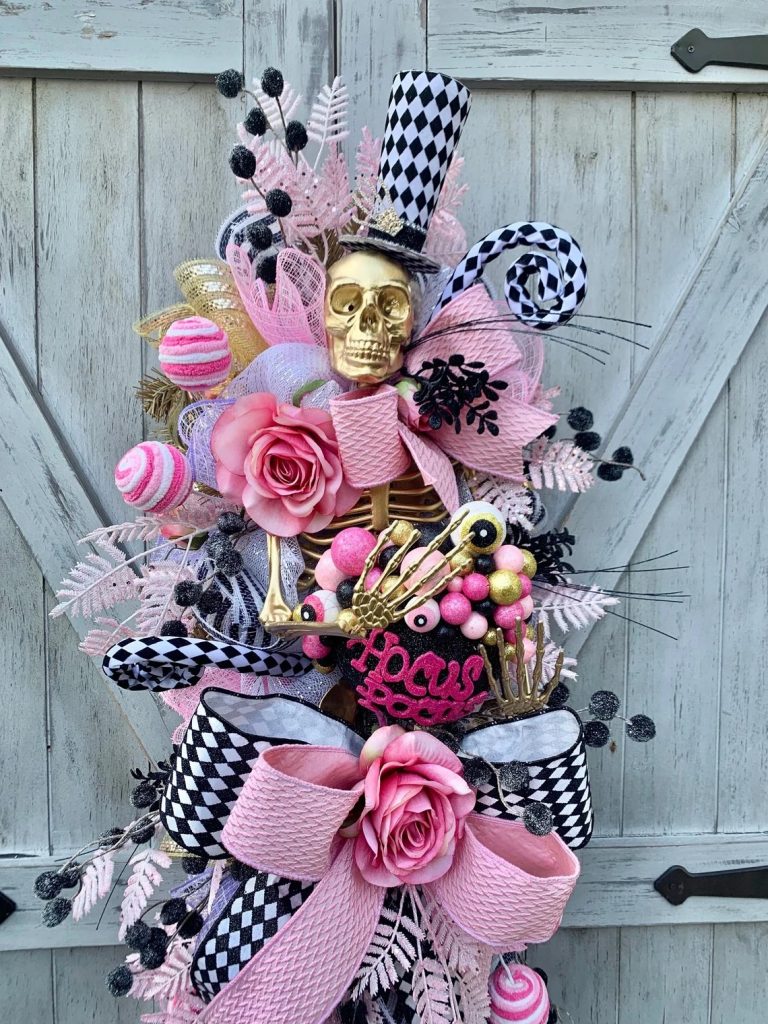 Tie-in your pink and black Halloween themed decor with these adorable farmhouse signs. Available in three styles; Happy Halloween, BOO, and Pumpkin Face, or as a set that includes all signs.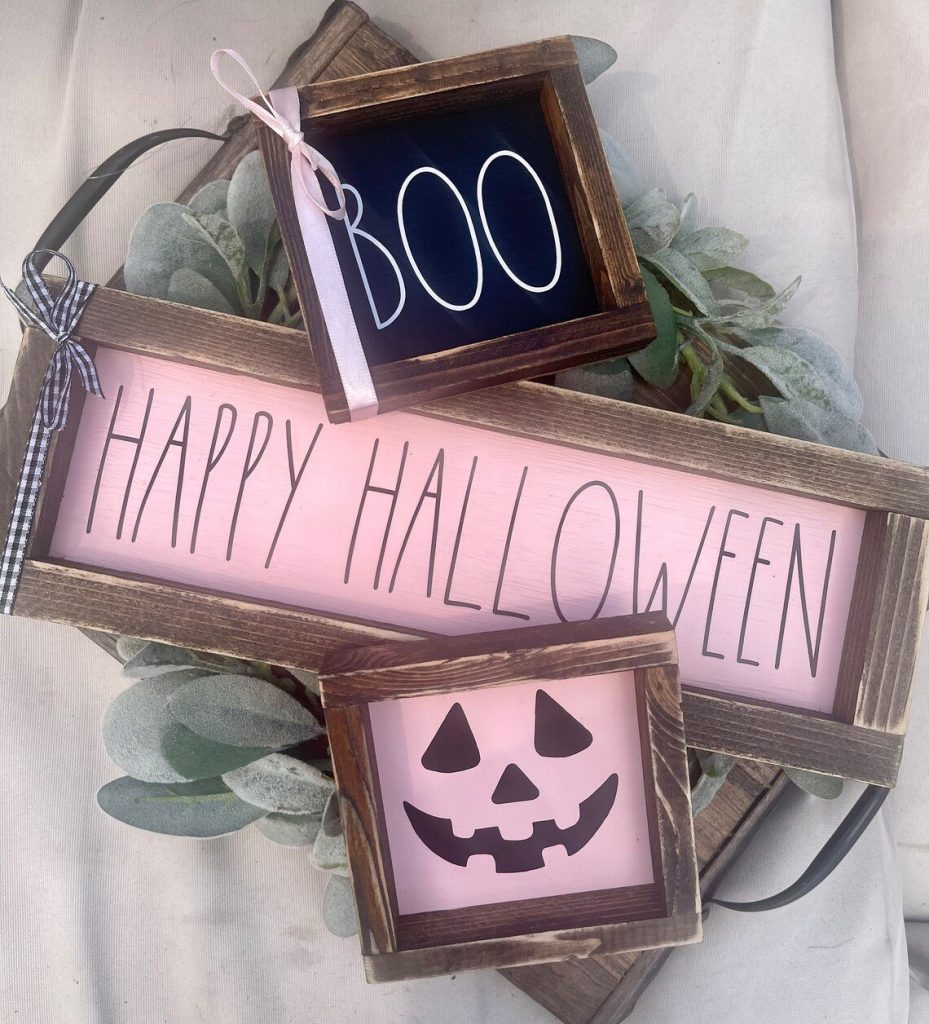 Create a spooky vibe serving mysterious potions in these fun black and pink Halloween foiled paper cups. They make for a practical supply idea for any Halloween party.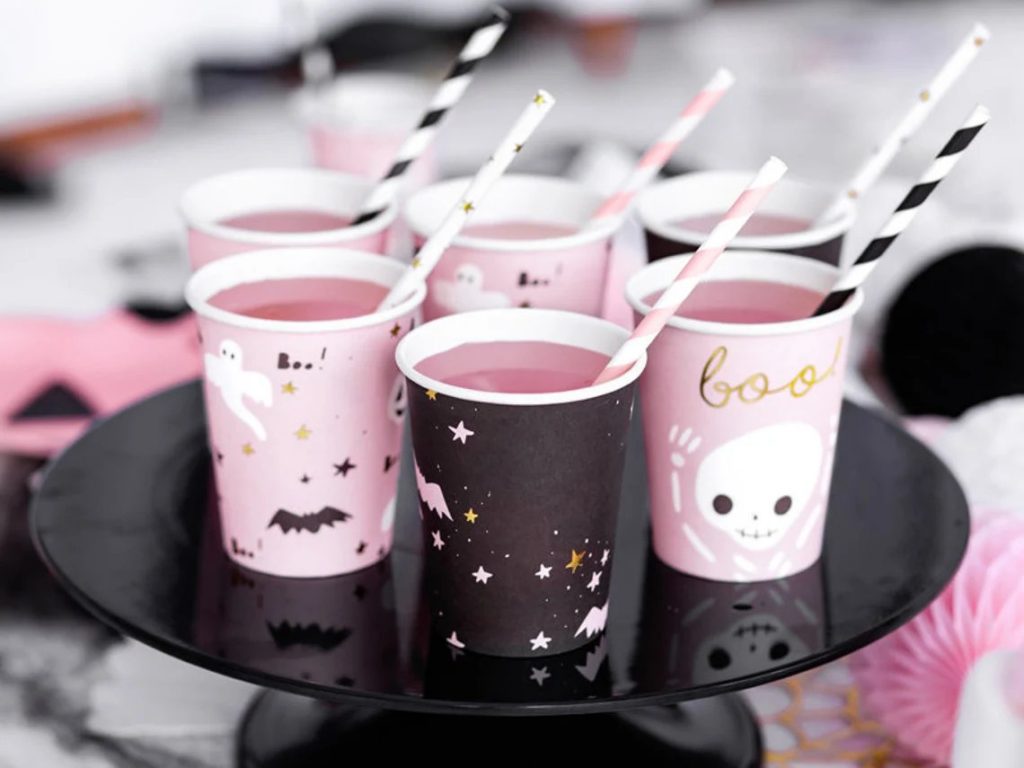 Make the after party clean-up easier on yourself by using these pink pumpkin recyclable paper dinner plates. Not only should you get them because they're cute and practical, they will also add a whimsical flair to your table decor.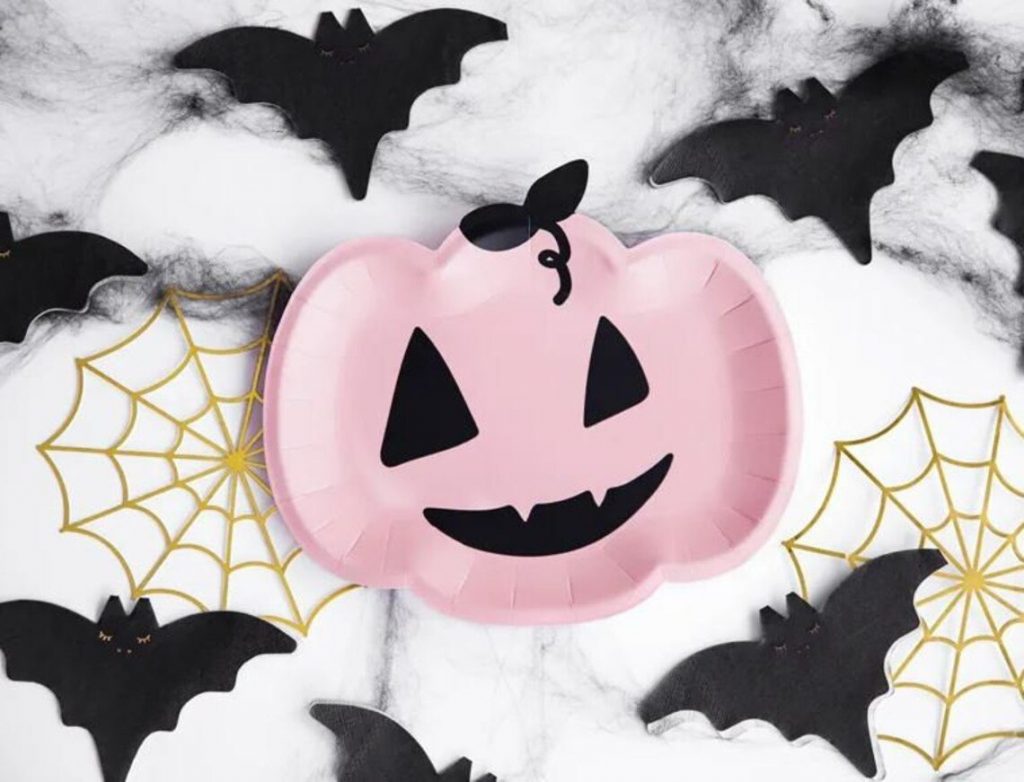 Biodegradable and food safe, these Halloween pink party straws feature a black non shed glitter spider cut out. They come in package of 12 and make for a fun addition to your decor.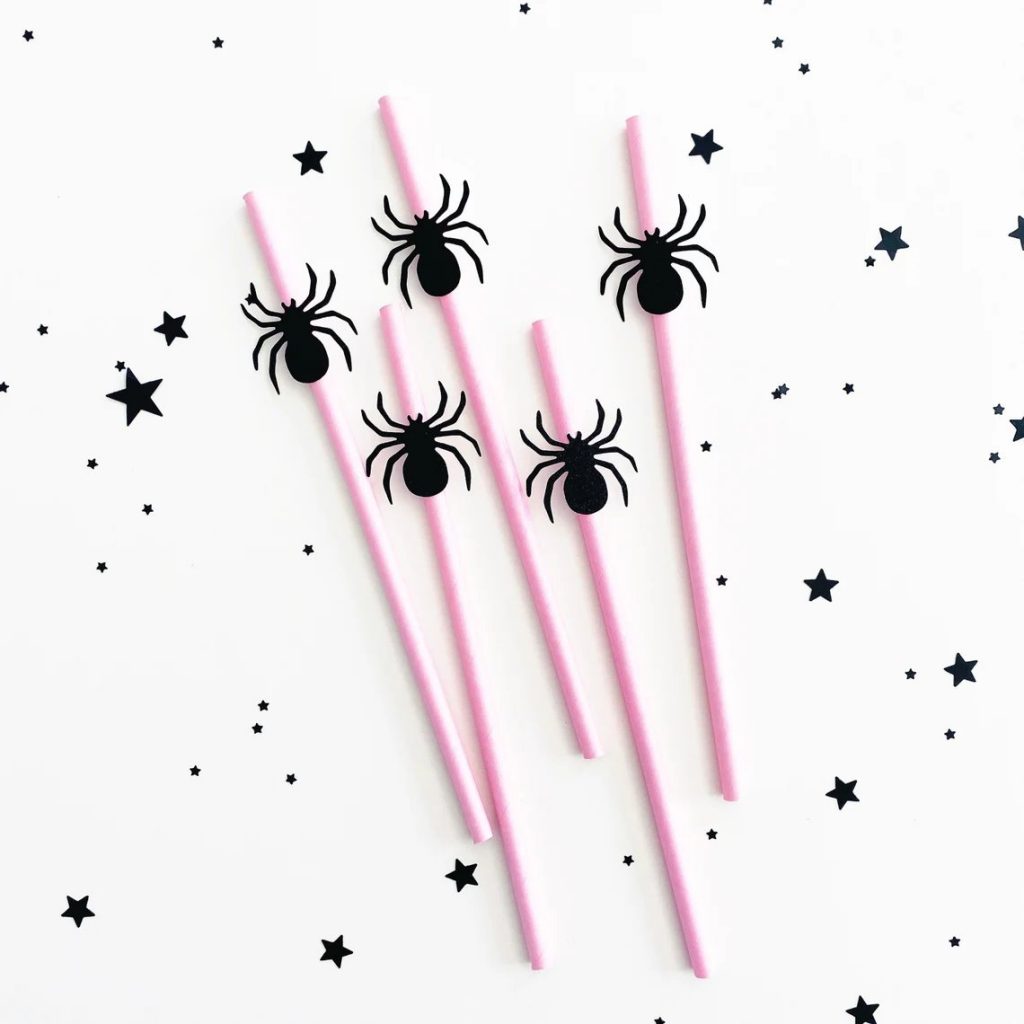 Adorn your cupcakes with these pink and black haunted house toppers. They have just the right amount of sparkle to add glam to your dessert table.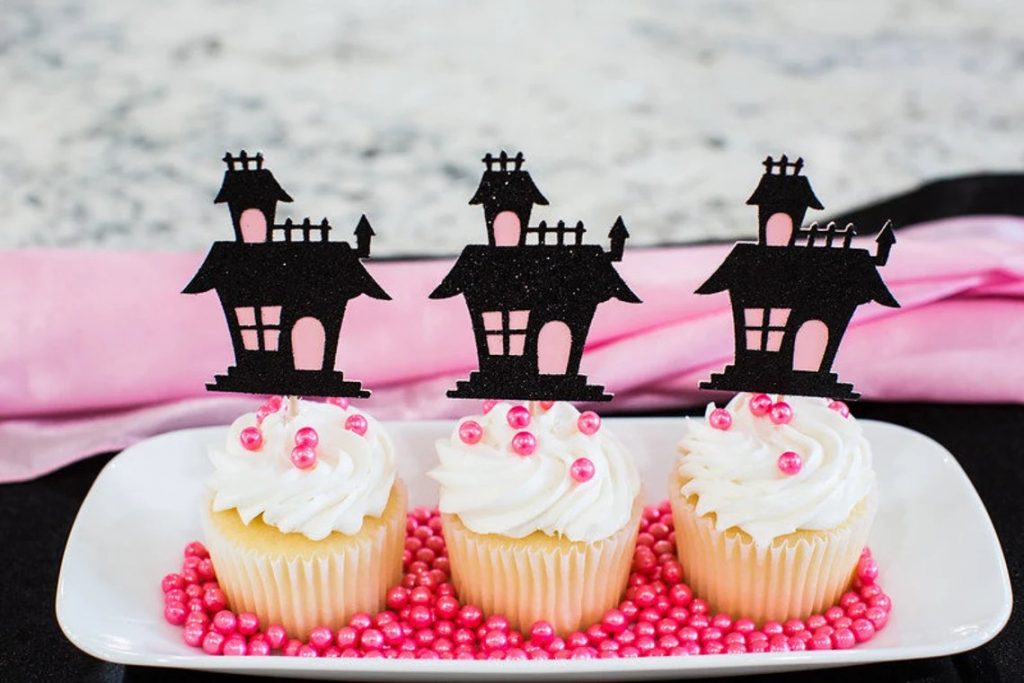 If you plan on serving cake, this set of black bat toppers is the perfect finishing touch! These black gloss bats are cut from high quality card stock and are attached to 6 inch wooden dowels.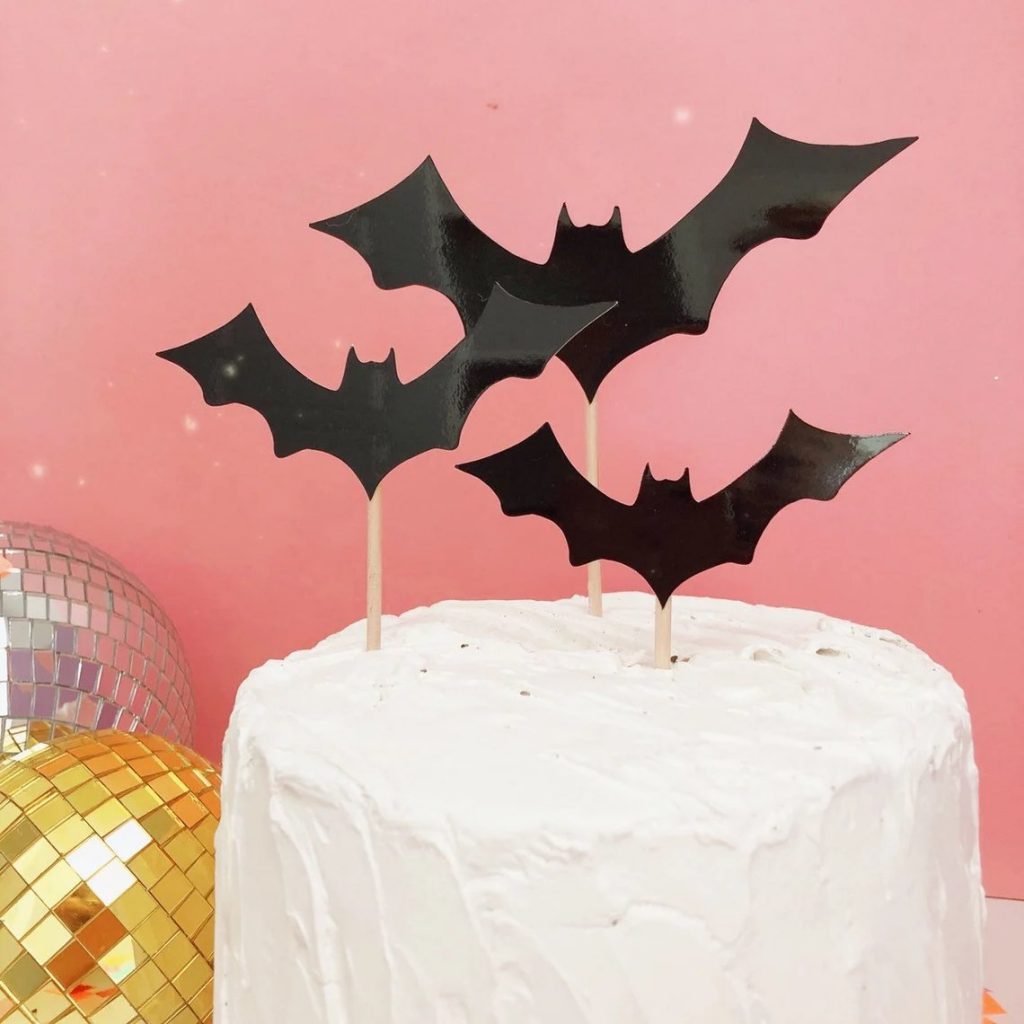 Available in your choice of four sizes, these acrylic ghosts make for adorable place cards. Personalized with your guests' names, they also make for perfect Halloween favors!
Hand-poured, this Zombie Punch candle has a fruity fragrant combination of watermelon and cherry fruit punch. Purple amethyst stones and quartz crystals have been sprinkled around the wick as a beautiful accent. This Halloween candle tin is the perfect complement for a stylish table decor and also makes for a unique gift idea.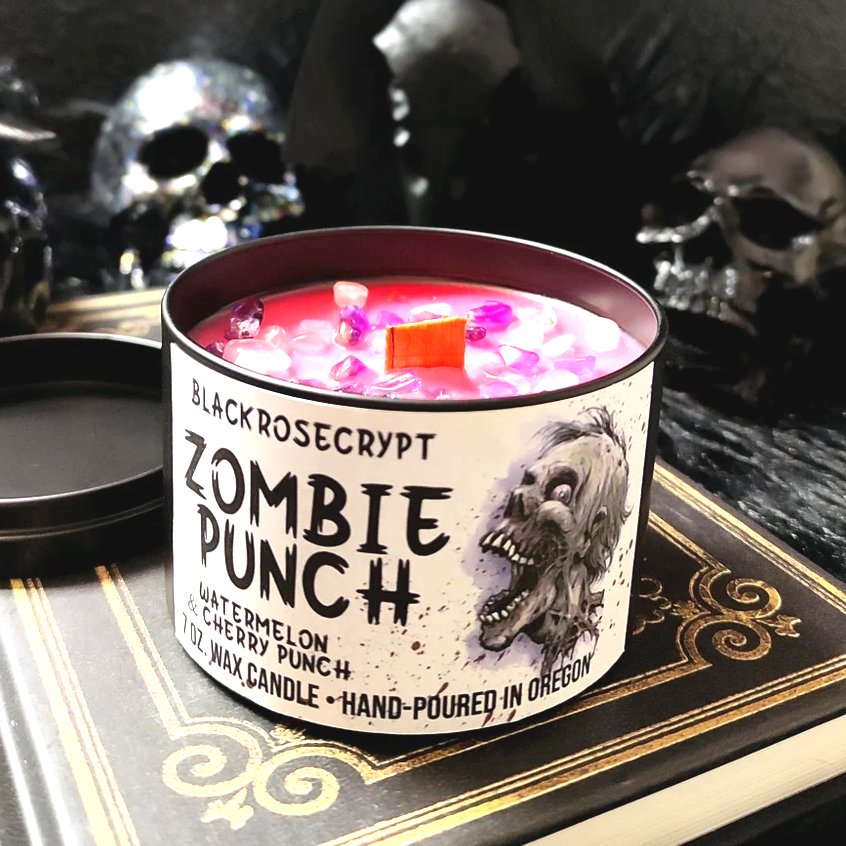 Perfect to package sweet treats for your guests, these cute pink Halloween party bags are adorned with cat stickers. Set them up ready to give on a favor table to beautify your venue decor.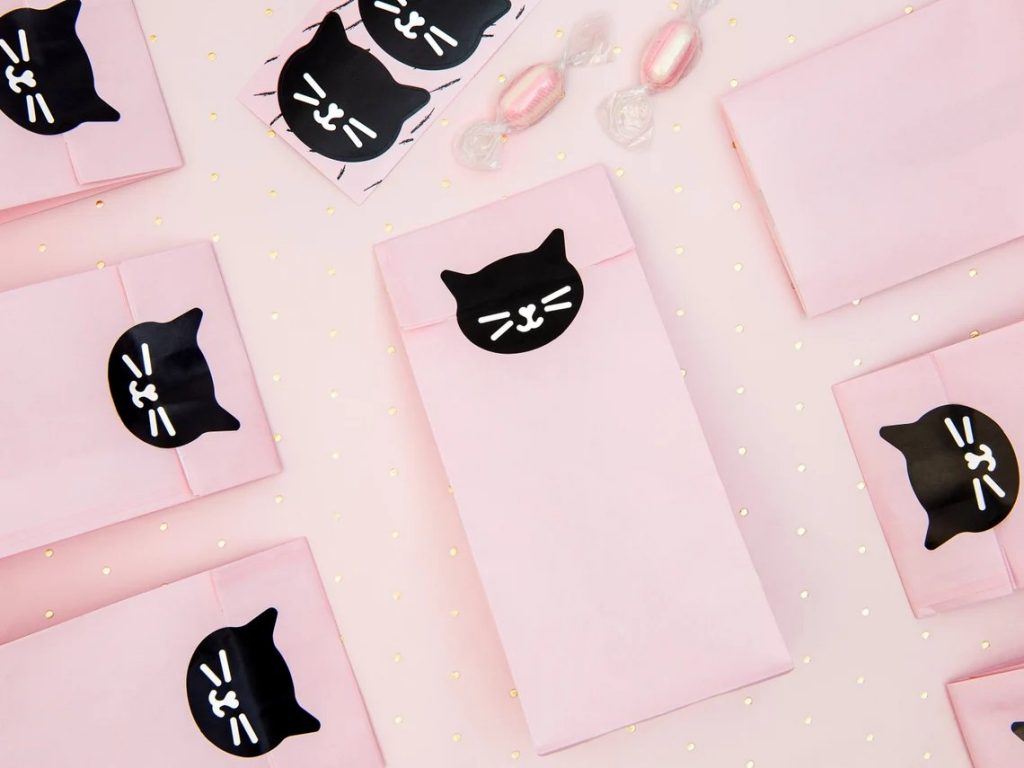 Kids attending your Halloween party will enjoy playing with these friendly pink pumpkin wands. Finished on both sides, the wand is of great quality and features a fun hat that moves from side to side.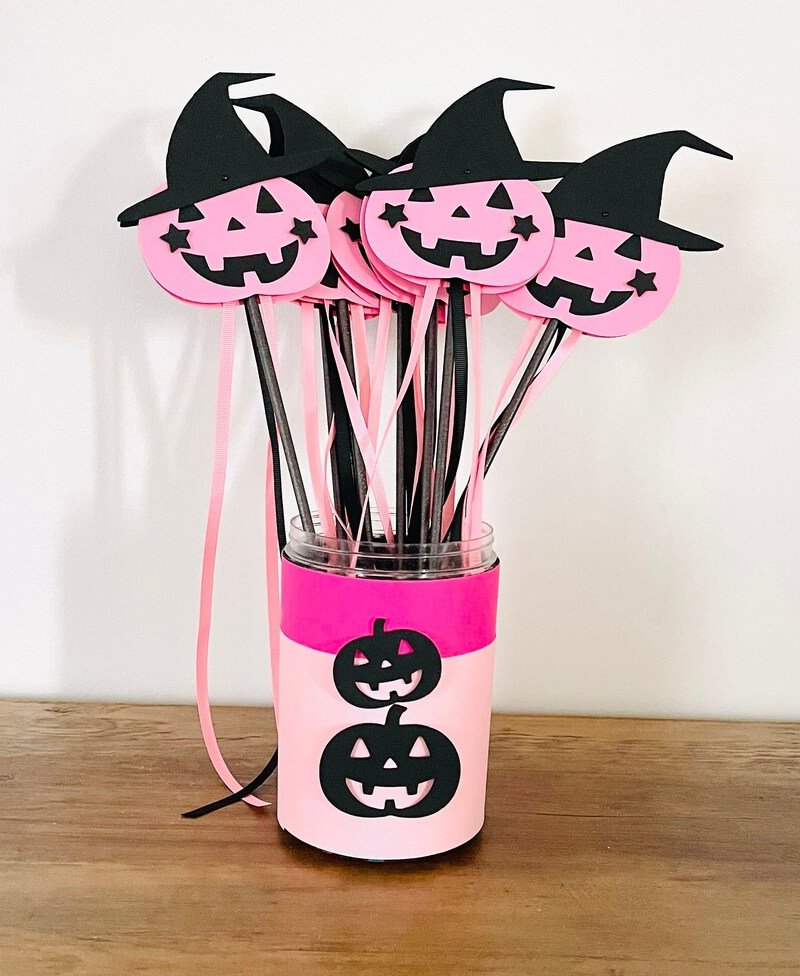 You may also like: